The Ultimate Guide to Choosing the Perfect Mother of the Bride Dress
Introduction
Welcome to the first step on a journey toward finding that perfect Mother of the Bride dress. A wedding is not just a union of two souls; it's also a blending of families, and tradition holds that the parents of the bride and groom play significant roles in this grand event. One of these key players is, of course, the mother of the bride. As she stands by her daughter's side on this special day, her attire serves as a reflection of the family's joy and pride.
The Mother of the Bride dress holds immense importance. It's not simply a garment but a symbol of love, support, and elegance that adds to the overall aesthetics of the wedding. The right dress complements the wedding theme, matches the palette, and most importantly, makes the mother of the bride feel beautiful and confident.
However, choosing the perfect dress can be a daunting task. From understanding your role in the wedding, considering various factors such as the venue and season, to navigating through different dress styles and sizes, there are numerous aspects to keep in mind. But worry not! This comprehensive guide aims to simplify this process for you.
In the following sections, we will delve deeper into each aspect of selecting the perfect Mother of the Bride dress. We'll discuss the role of the mother of the bride and how it influences her dress choice, factors to consider while choosing the dress, color guidelines, fitting and size considerations, diverse dress styles, and even tips on dealing with shopping stress.
By the end of this guide, you'll be equipped with all the necessary knowledge to make an informed decision. Whether you're seeking a dress that's timeless and classic, or modern and chic, our goal is to provide you with the confidence and excitement to start your dress search. So buckle up, and let's dive right in!
Understanding the Role of the Mother of the Bride
As we journey together through this guide, it's crucial to first understand the role of the mother of the bride in a wedding. This is not only an occasion of joy and celebration for the couple but also a pivotal moment for the parents, particularly the mother of the bride. She holds a unique position that comes with certain responsibilities, which, in turn, influences her dress choice.
The mother of the bride often plays multiple roles, from being a supportive figure to occasionally helping with the planning and execution of the wedding. Her presence is essential and visible throughout the ceremony, whether she's walking down the aisle, taking part in family photos, or receiving guests. Consequently, her dress becomes a reflection of her involvement and signifies her status as one of the pillars of the event. It should be a blend of elegance and poise, without compromising on comfort.
Now, let's delve into the significance of the mother of the bride's dress and how it complements the overall theme of the wedding. The aesthetic harmony of a wedding is something everyone aims for. Every element, from the venue decoration to the attire of the wedding party, is usually coordinated to fit within a theme. The mother of the bride's dress is no exception.
Her dress acts like a thread that weaves itself through the fabric of the wedding's visual narrative. It should align with the color scheme, style, and formality level of the wedding. However, it must remain distinct enough to stand out among the crowd, subtly highlighting her special role. Just imagine a garden wedding with pastel-themed décor. If the mother of the bride shows up in a dress of soft blush or lavender, she would not just match the theme but also accentuate it beautifully.
In essence, the mother of the bride's dress serves as a visual cue that underscores her role and supports the wedding's theme. It's like a delicate dance between individuality and conformity – striking the right balance is key. Understanding this will help choose a dress that is not only gorgeous but also meaningful.
Factors to Consider While Choosing the Dress
Selecting the right dress for the mother of the bride is a fine balance between reflecting the overall wedding theme and expressing personal style. It's not just about finding a beautiful dress; it's about finding the one that fits into the broader picture of the occasion while letting your personality shine through.
The Wedding Theme, Venue, Season, and Time
First and foremost, consider the wedding's theme. Is it a traditional, formal affair or a relaxed, beach-style wedding? The dress you choose should echo this vibe. For a classic church wedding, a more formal dress may be appropriate, where for a rustic barn wedding, something more relaxed could fit perfectly.
The venue also matters. If it's an outdoor wedding, think about the practicality of your dress. A long, flowing gown might not pair well with a beach setting or a garden venue with lots of grass. Alternatively, an indoor, high-end hotel wedding might call for a more elegant, sophisticated dress.
Season and time are equally important. A winter wedding might necessitate a dress made from heavier fabric or accessorized with a stylish wrap or coat. Summer weddings generally call for lighter fabrics. Daytime weddings usually lean towards more casual styles, while evening events often require more formal attire.
Comfort and Personal Style
The importance of comfort cannot be overstated. This is a joyous day, and you'll want to dance, move around, and celebrate without feeling restricted by your dress. Opt for a dress that not only looks good but also feels good. Remember, comfort doesn't mean compromising on style. With countless designs available, you can surely find something that satisfies both aspects.
Personal style is another crucial factor. The dress you choose should mirror your personality and make you feel confident. For instance, if you usually dress in bright colors and prints, a muted, solid-colored dress might not feel authentic to you. Similarly, if your style is generally understated and elegant, a flashy, sequined dress might not be your cup of tea.
Overall, the choice of the mother of the bride dress is a thoughtful process that requires considering the wedding's overall theme, venue, season, and time, as well as personal comfort and style. It's about finding a balance between aligning with the wedding's aesthetic and showcasing your individuality. After all, it's a special day for you too!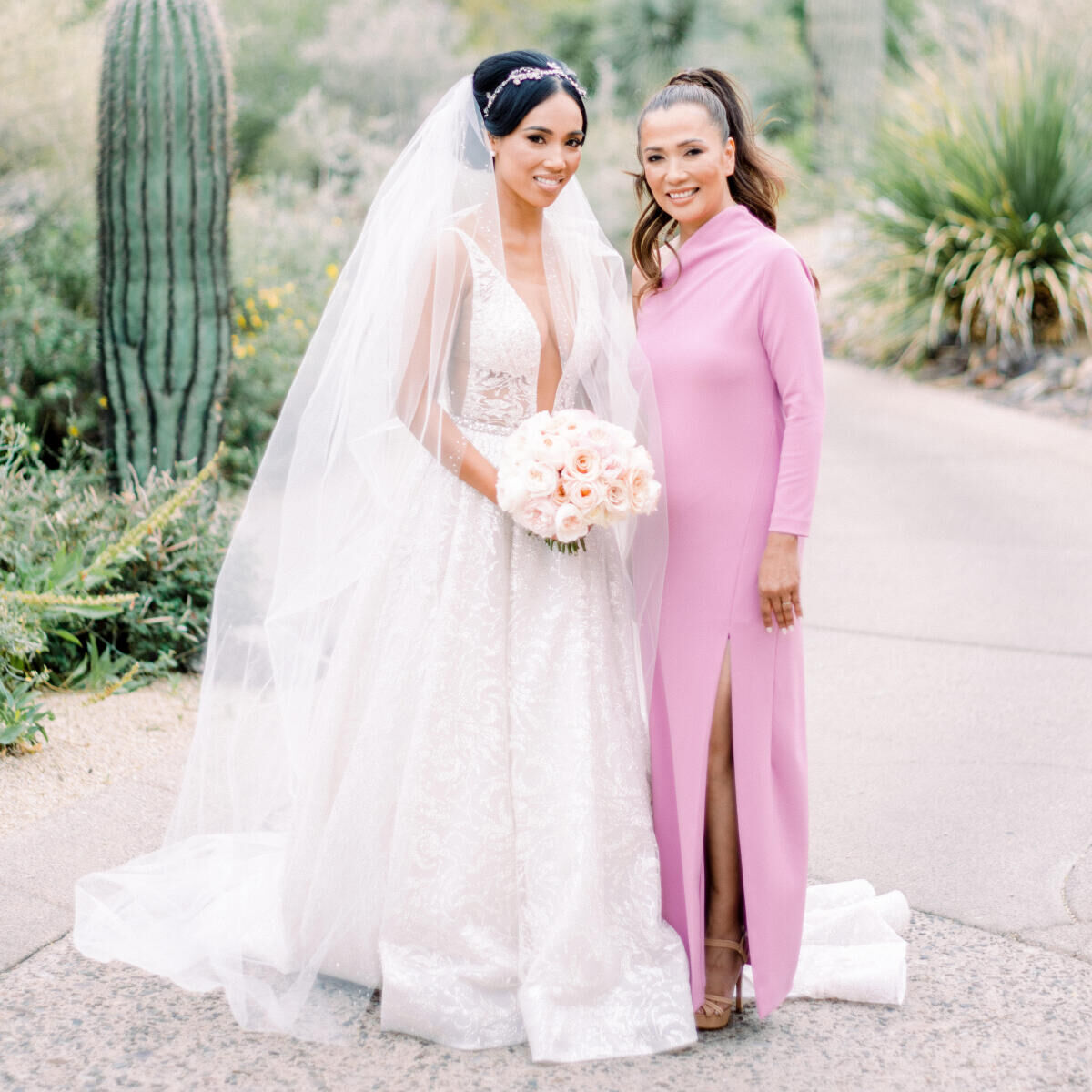 Color Guidelines for the Mother of the Bride Dress
Color plays a pivotal role in the aesthetic harmony of a wedding. It's not just about the bride and groom, but it also extends to the bridal party, decor, and even the mother of the bride's dress. Therefore, understanding color etiquette can be crucial when choosing the perfect dress for the mother of the bride.
Understanding Color Etiquette
When it comes to traditional weddings, there are some unwritten rules about color choices for the mother of the bride's dress. The most prevalent rule is to avoid colors that are traditionally reserved for the bride and bridesmaids. White, off-white, or ivory are generally considered exclusive to the bride, while the bridesmaid's dresses' color is also typically unique to them. Furthermore, it's also customary for the mother of the bride to avoid overly bright colors or loud prints that could potentially outshine the bridal party.
However, these rules are not set in stone. With the evolution of wedding trends, more modern and personalized weddings have begun to embrace flexibility and individuality. Despite this, it's still important for the mother of the bride to communicate with the bride and groom about their preferred color palette to ensure a harmonious visual effect on their big day.
Choosing a Complementary Color
Once you've understood the basic color etiquette, the next step is selecting a color that complements the overall theme of the wedding but doesn't overshadow the bride or bridesmaids. A good tip is to choose a color that ties in well with the wedding's color scheme. For instance, if the colors of the wedding are blush and gold, the mother of the bride could opt for a muted rose or champagne-colored dress. This ensures that her dress will blend in beautifully with the decor and the bridal party, creating a cohesive look.
Another factor to consider is the season in which the wedding is taking place. Lighter colors like pastels are more suitable for spring and summer weddings, while richer, deeper hues are often chosen for autumn and winter celebrations. Considering these factors can help refine your color choice and make the dress selection process much simpler.
To conclude, choosing the right color for the mother of the bride's dress involves understanding wedding color etiquette, considering the wedding's overall theme, and ensuring that the chosen color complements rather than competes with the bridal party. By keeping these tips in mind, you can confidently select a dress that enhances the visual harmony of the wedding while also allowing the mother of the bride to stand out in her own elegant way.
Fitting and Size Considerations
When it comes to selecting the perfect mother of the bride dress, getting the right size and fit is crucial. It's not just about looking elegant on this special day, but also about feeling comfortable as you fulfill your role at the wedding. After all, the wedding day is a long event, and you want to ensure that you can move freely and enjoy the celebration without any discomfort.
The Importance of Correct Size and Fit
Choosing a dress in the right size might seem obvious, but it's worth emphasizing because of its impact on your comfort and elegance. A dress that's too loose or too tight can affect your posture and movement, potentially making you feel self-conscious or uncomfortable. Furthermore, an ill-fitting dress may draw attention for the wrong reasons. Hence, it's essential to take accurate measurements before purchasing your dress to ensure it fits you perfectly.
Tips for Dress Fittings and Alterations
It's unlikely that a dress will fit perfectly straight off the rack. This is where professional fittings and alterations come in. Here are some tips to help you navigate this process:
Try Before You Buy: Always try on dresses before purchasing. Even if you're buying online, consider ordering a couple of sizes to find the best fit, then return the rest.
Professional Measurements: Get professionally measured. Professional tailors have the expertise to measure accurately, ensuring a better fit than relying on guesswork.
Attend Multiple Fittings: Attend more than one fitting session. Your body size can fluctuate, so it's a good idea to have multiple fittings closer to the wedding date.
Don't Rush Alterations: Don't leave alterations until the last minute. Allow plenty of time for any necessary adjustments to be made.
Remember, your comfort is as important as your appearance on this special day. So, don't compromise on the fit and size of your dress. With a perfectly fitting dress, you can celebrate the wedding with confidence and grace, making it an even more memorable event for everyone involved.
As we dive into the vast sea of dress styles, it's essential to understand that the perfect outfit is a delicate balance between what's fashionable and what suits you. The mother of the bride's dress should be a reflection of her personal style, while also aligning with the wedding's overall aesthetic. Let's explore some popular dress styles and how they can complement different body types and preferences.
Popular Dress Styles for the Mother of the Bride
The world of fashion offers an array of dress styles, each carrying its unique charm and elegance. Some popular choices for the mother of the bride include the classic A-line dresses, which gracefully cinch at the waist and flare out towards the bottom, providing a timeless and flattering silhouette. For those who prefer a bit more structure, Sheath dresses are a fantastic option. These dresses offer a form-fitting silhouette that elegantly traces the body's natural lines.
If you're after a bit of drama, Ballgowns or Mermaid-style dresses can add a touch of grandeur to your ensemble. Ballgowns are characterized by their fitted bodice and voluminous skirt, exuding a fairytale-like charm, while Mermaid-style dresses, fitting snugly on the body from chest to knee and flaring out from the knee downwards, make a bold and stylish statement.
Matching Dress Style with Body Type and Personal Preference
Choosing a dress style is not just about following trends; it's about finding a style that accentuates your best features and makes you feel comfortable and beautiful. If you have an hourglass figure, consider a Mermaid-style or Sheath dress to highlight your curves. A-line dresses, with their ability to create an illusion of proportion, work well for pear-shaped bodies, while Ballgowns can be quite flattering for apple-shaped figures, drawing attention to the bodice and offering a generous skirt to balance the silhouette.
Remember, your comfort and personal style are paramount. If you're not comfortable in a Mermaid-style dress, no matter how well it suits your body type, it's not the right dress for you. Similarly, if vibrant patterns and colors define your style, don't limit yourself to traditional solid hues. This is your day to shine as well, so make sure your dress reflects your personality!
Ultimately, navigating through different dress styles is an exciting journey of self-expression and elegance. So, take your time, explore your options, and embrace the style that makes you feel most like yourself. After all, the perfect dress is the one that makes you feel as amazing as you look!
Accessories and Finishing Touches
Selecting the perfect mother of the bride dress is a significant milestone, but your ensemble isn't complete without the right accessories. These little embellishments aren't just a matter of fashion; they are the finishing touches that pull together your look and make you feel truly special on your child's big day.
Suggestions for Appropriate Accessories to Complete the Look
When considering what accessories to pair with your dress, remember that less is often more. A standout piece of jewelry, like a beautiful necklace or a pair of elegant earrings, can add a touch of glamour without overwhelming your look. If your dress is already ornate, a simple bracelet or tasteful ring might be all you need.
Consider your hairstyle when choosing hair accessories. A chic updo may call for a sparkling hairpin, while loose curls might benefit from a subtle headband. Don't forget about practical accessories like a matching clutch to hold your essentials and a shawl or bolero if the venue is likely to be chilly.
The Importance of Selecting Shoes, Jewelry, and Other Accessories That Complement the Chosen Dress
Your choice of shoes is as important as your dress. Comfort should be paramount because you'll likely be on your feet a lot. Opt for a pair that matches the style and color of your dress and complements any other accessories you're wearing. Also, remember to break them in before the wedding day to avoid any uncomfortable surprises.
Jewelry is another crucial factor that enhances your overall look. When choosing, consider the neckline of your dress. For example, a V-neck dress pairs well with a pendant necklace, while a strapless dress allows for statement earrings. The color and style of your jewelry should harmonize with your dress, not compete with it.
Other accessories like a stylish hat or gloves can add a touch of personality and showcase your style. However, always ensure that they fit the theme and formality of the wedding. Remember, the goal is to feel confident and comfortable while complementing the bridal party, not overshadowing them.
In the end, choosing accessories for your mother of the bride outfit is about balance. You want to shine, but the bride should be the star of the show. By selecting pieces that enhance your dress and reflect your personal style, you'll not only look stunning but also feel fantastic on this memorable occasion.
Dealing with Dress Shopping Stress
Shopping for the perfect mother of the bride dress can be an emotional rollercoaster, filled with moments of both excitement and stress. However, it doesn't have to be an overwhelming task. With some practical strategies in hand, you can tackle this mission with confidence and joy.
Tackling Potential Stressors
Firstly, it's important to remember that anxiety is a common experience during the dress shopping process. The key is to recognize these feelings and approach them proactively. For instance, if you're worried about finding a dress that fits well and complements your body shape, consider seeking advice from professional stylists or experienced friends. They can provide valuable insights into what styles might suit you best.
Another common stressor is the pressure to find the 'perfect' dress. Remember, there's no such thing as a universally perfect dress – what matters is that you feel comfortable and beautiful in your choice. So rather than striving for perfection, aim for a dress that reflects your personal style, fits the wedding theme, and makes you feel confident.
The Benefits of Early Planning
One proven way to mitigate dress shopping stress is to start early. Early planning allows plenty of time for browsing, fitting, alterations, and even making a change of mind. Starting your search several months in advance can help you avoid last-minute panic and make more thoughtful decisions.
Having a clear idea of what you want can also save you time and reduce anxiety. Before hitting the stores, do some research on current trends, color schemes, and suitable styles. You may even create a mood board or a Pinterest board to gather inspiration and narrow down your options.
Seeking Professional Advice
Finally, don't hesitate to seek professional advice if you're feeling overwhelmed. Bridal consultants and personal shoppers can offer expert guidance, helping you navigate through myriad choices based on their understanding of different body types, styles, and wedding themes. They can also provide reassurance and a second opinion, making the process less stressful and more enjoyable.
Remember, finding the right dress is not just about the end result, but also about enjoying the journey. By planning ahead, staying open to advice, and maintaining a positive mindset, you can turn dress shopping into an exciting part of the wedding preparations, rather than a source of stress.
Conclusion
We have journeyed together through this comprehensive guide, touching upon various aspects that are instrumental in picking the perfect Mother of the Bride dress. From understanding the role of the mother of the bride to navigating different dress styles and dealing with shopping stress, we've explored every facet of the process.
Let us quickly recap the key points. The Mother of the Bride dress holds significant importance as it complements the overall wedding theme. It's crucial to consider factors like the venue, season, and time of day while choosing the dress. Comfort and personal style should not be compromised in the selection process. We also discussed the color etiquette of the dress, emphasizing the need for a color that complements rather than overshadows the bridal party.
The importance of dress fitting and size was highlighted, along with the necessity of alterations to ensure an elegant fit. The guide offered insights into popular Mother of the Bride dress styles, providing guidance on matching the style with body type and personal preference. We also touched upon the significance of accessories in completing the look and offered practical tips to handle potential stressors during the dress shopping process.
Now, it's your turn to step into action. Embark upon the exciting journey of choosing your Mother of the Bride dress with confidence and enthusiasm. Remember, it's not just about finding a dress that fits the occasion but also one that resonates with your personal style and makes you feel comfortable.
So, take the plunge! Start exploring options, try out different styles, experiment with colors, and most importantly, enjoy the process. After all, it's a special day not just for the bride and groom, but for you as well. Happy dress hunting!